Last week I had the opportunity to go thrifting with my MIL (why I wasn't at work isn't a topic for discussion, sorry :-) Anyways, I IM'd her to see if she would be up for the adventure. I picked her up after my dentist appointment and we headed to the Goodwill that is just a few blocks from her house with our coupon's in hand.
Now thrifting with my MIL is WAY different than thrifting with the Husband. Remember in
this post
he was kind enough to go with me and to return the favor I spent very little time perusing the store. But this time we spent a good three hours browsing. Oh, the things I found!!! Here, let me share them with you.
These are the fall decorations: 2 scare crows, and a table runner
These are the Christmas decorations: peppermint candles (still in the packaging), a snowman soap dish (at least that's what I think it is), and a penguin candleholder (again, that's what I think it is)
A set of 6 placemats and 4 napkins
Four silver chargers and 4 mason jars
Stay tuned for projects involving the mason jars, candle, candlesticks, and white plate with goblet-looking thingy.
One thing I love about Goodwill is buying things to transform in to something else. Or deciding what its purpose is when it's not always completely obvious. And people say our imagination deteriorates as we get older. Oh yeah! I also bought a pair of gym shorts and PJ pants, but they're currently chillin' in the dryer.
Now the downside of having the ability to stay for three hours is you wind up spending about the three times the money. Oops! Lucky for me Husband wasn't upset. Man, he's a good catch. And I'm very thankful that he doesn't get upset with me too often for my spending habits.
Linking to: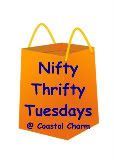 Today's Thrifty Treasures